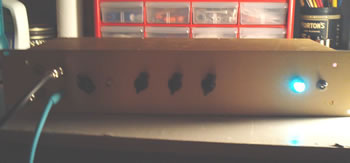 Tube DI Photos:
Top | Inside | Rear | Fired Up | Painted and Racked
Audio:
Quiet Storm Recorded 12/4/08 with '68 335 -> Tube DI -> Redd.47 -> Pultec (flat) -> La2a (compressing lightly).
Tube DI Notes:
I put this simple circuit together with some help from John Hinson at Revolution Recording Equipment.
Although the DI works and sounds fine, I'm going to be making some alterations to the design, so I will not post the schematic and layout until this work is completed. However, in the interim, building a tube DI is much easier and less expensive than building a mic preamp - there are just a few parts - I encourage anyone to design a circuit and experiment.